Have you ever wondered how international volunteers' views of global challenges and future plans change after their long-term stay in low-income countries? Have you realized how both the hosting organisations, as well as the sending organisations at home grow together with their volunteers? Have you imagined how the mitigation of forced migration through specific volunteer projects happens when the sent young people work directly with migrating communities? The stories of three Slovak Development Volunteers – Veronika, Anna and Martin will give you the answers.
Slovak volunteer Veronika Zimova educated socially excluded children of parents who had returned to Albania. Anna Hrubonova, was part of an education centre for the youngest Syrian refugees in Lebanon. Another development volunteer, Martin Pavelka worked on the re-employability of internally displaced persons in Georgia. Due to their work abroad, all three of them became migrants themselves and may be considered as Young ambassadors of 'Faces of Migration' campaign.
Educating socially excluded children of 'returnees' in Albania
All three young people sent from Slovakia worked in very diverse, international teams. They could communicate with their colleagues effectively mainly thanks to having studied and understanding the context from which their counterparts came and in which they lived. Equally important was: not to give in to their own established norms and beliefs, but to listen carefully to what the locals were telling them. Thanks to pre-departure training from ADRA Slovakia team, intercultural sensitivity and verbal and non-verbal communication, they were able to successfully implement their volunteer activities and build relationships in the new communities – professional as well as personal.
Veronika Zimova works as a project manager of EU Aid volunteers program at ADRA Slovakia. In 2018 and 2019, she worked as a SlovakAid development volunteer in two annual cycles for the host organisation ADRA Albania in Tirana. She often went directly to Roma children together with her colleagues and participated in tutoring classes and extra-curricular activities for excluded groups of pupils. Their focus was to educate socially excluded children of 'returnees' – parents who had returned to Albania.
"Returnees are unsuccessful asylum seekers of Roma origin, who had to return from Germany back to Albania together with their families. As a minority, they are now again looking for their place in the major society and are re-discovering their old-new homeland. Many children are excluded, not integrated into the educational process, so additional teaching alone does not suffice," Veronika explains. That is why her team also worked with parents, especially in the field of awareness-raising, prevention and positive education, with an aim to raise awareness of the need for education.
Keeping the centre open for the youngest Syrian refugees in Lebanon
Anna Hrubonova works as a project assistant of volunteering programs at ADRA Slovakia. At the turn of 2019 and 2020, she worked as a SlovakAid development volunteer in the educational project for the children of Syrian refugees at host organisation ADRA Lebanon in Beirut – trying to gain funding for a full renewal of the training centre. "Over the hill, you can literally see from Lebanon to Syria, which is why about one million Syrian refugees live in this neighbouring state. Considering the size of the original population (6.8 million), it's a huge number," Anna explains. She also prepared a vocational course for young people from poorer backgrounds, who had experienced difficulties finding employment or paying for university education. However, she was not able to experience the implementation of this project due to her early departure back home – related to the COVID-19 pandemic in March 2020. Before the start of this global pandemic, the country experienced a political, financial and refugee crisis, all at the same time.
Until March 2020 she was a part of an education centre for the youngest Syrian refugees in Lebanon who lag behind in school and experience difficulties with integrating into the education system. "This is a common problem for Syrian children, as they have been out of education for a long time due to the war and a life on the run. They have missed several school years and lost their study habits. A life in poverty deteriorates the situation even more," Anna explains. At the ADRA Lebanon centre, there was a safe and enjoyable learning environment created for the children. Despite the trauma of war and fleeing their homeland, they (like any other children) enjoyed the little things.
Being in charge of fifty local volunteers in Istanbul
Another Slovak young ambassador of Faces of migration campaign is Martin Pavelka. iUntil 2019 he worked as SlovakAid development volunteer on the re-employability of internally displaced persons (IDPs) in Georgian re-settlement Tserovani. Volunteer Martin Pavelka worked with internally displaced persons (IDPs) who had had to flee their homes because of the Georgian-Russian war for the South Ossetian region in 2008. Immediately after this war, the Georgian government had several settlements built in border regions. The largest is the settlement of Tserovani near Tbilisi, where about 8,000 ethnic Georgians live in two thousand simple houses. Martin's former host organisation For better Future was founded by these internally displaced persons. Under its leadership, there operates a social enterprise entitled Ikorta, at which twelve internally displaced women make traditional enamel jewellery. Martin focused on rebranding, increasing the company's visibility, more effective marketing and launching an online store, as well as deepening cooperation with local companies. Furthermore, as a mentor, he was in charge of supporting the employability of the displaced community through social entrepreneurship.
In Georgia Martin became interested in the European and slightly more robust EU Aid Volunteers initiative. So in the autumn of 2019, Martin was sent as a senior coordinator of volunteers to Turkey. He is now in charge of fifty local volunteers at organisation Small Projects Istanbul, which provides counselling and works directly with Syrian refugee communities in Istanbul. He stayed there during the corona-crisis and fulfilled his duties online.
"In recent years, thanks to travel, volunteer and study stays, as well as globalisation, much has changed in our region (in terms of understanding the migration phenomena). For instance, through their grandchildren's experiences, grandparents are slowly becoming acquainted with the issues of diversity, otherness, and sensitivity to other cultures. Let's wish that the global COVID-19 pandemic does not slow down this well-started change," hopes Martin.
Why we need these real ambassadors of change
In addition to their determination and expertise, the 'symbolic' and social capital of these development volunteers is also important and credible. Together with their sending and host organisations, the volunteers represent their own (direct or indirect) role – to contribute to ending global poverty, often linked to human-caused conflicts and subsequent humanitarian crises, which unjustly keep millions of people in need.
All three young people sent on a volunteer "mission" abroad through ADRA Slovakia noticed that many fellow citizens around them (not only in Slovakia) use the word migrant as an insult. Anna sees the reason for anti-immigration sentiments also in the fact that the reform of the Slovak education system is proceeding only very slowly. That was one of the reasons why Slovak Ambrela focuses on global education in schools and is changing the situation for the better (through the 'Faces of migration' campaign too). Veronika and Martin add that, besides civil society, the media and educational institutions should be held accountable and expected to provide unbiased and objective information on the issue of migration.
We can consider Veronika, Martin and Anna as needed ambassadors of change – looked-for faces of migration within the campaign Faces of Migration of Ambrela – Slovak Platform for Development Organisations, through which we strive to explain the issue of migration to the public through the lens of Global Goals. These three young people from Slovakia, who worked with all the vulnerable groups, now contribute to raising awareness at home, fight prejudices and stereotypical portrayals, trying to correct public opinion about the phenomenon of migration as something negative through their own personal experience and stories.
Note: Our 'Faces of migration' campaign is a part of our project 'SDGs and Migration – Multipliers and Journalists Addressing Decision Makers and Citizens in the EU' implemented within the framework of DEAR programme.
Written by: Dr Boba Markovic Baluchova (Ambrela, Slovakia), Photo: ADRA Slovakia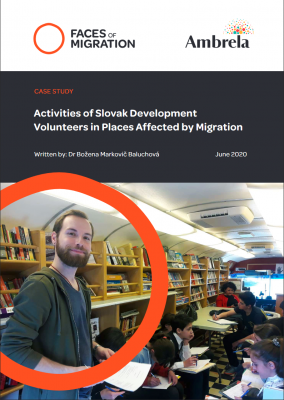 Attachment:
Case study: Activities of Slovak Development Volunteers in Places Affected by Migration (916 KB, PDF)